Posts for: May, 2015
By Park Dental Center
May 30, 2015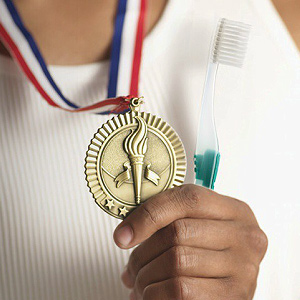 Considering all the intensive conditioning, practice and training they do, most people would expect elite athletes to be… well… healthy. And that's generally true — except when it comes to their oral health. A major study of Olympic contenders in the 2012 London games showed that the oral health of athletes is far worse than that of the general population.
Or to put it more succinctly: "They have bodies of Adonis and a garbage mouth."
That comment, from Dr. Paul Piccininni, a practicing dentist and member of the International Olympic Committee's medical commission, sums up the study's findings. In terms of the numbers, the report estimates that about one in five athletes fared worse in competition because of poor oral health, and almost half had not seen a dentist in the past year. It also found that 55 percent had cavities, 45 percent suffered from dental erosion (excessive tooth wear), and about 15 percent had moderate to severe periodontal (gum) disease.
Yet, according to Professor Ian Needleman of University College, London, lead author of the study, "Oral health could be an easy win for athletes, as the oral conditions that can affect performance are all easily preventable."
Many of the factors that had a negative impact on the athletes are the same ones that can degrade your own oral health. A follow-up paper recently published in the British Journal of Sports Medicine identified several of these issues. One is a poor diet: The consumption of excessive carbohydrates and acidic foods and beverages (including sports drinks) can cause tooth decay and erosion of the protective enamel. Another is dehydration: Not drinking enough water can reduce the flow of healthy saliva, which can add to the damage caused by carbohydrates and acids. The effects of eating disorders (which are more commonly seen in certain sports, such as gymnastics) can also dramatically worsen an individual's oral health.
Sound familiar? Maybe it's because this brings up some issues that dentists have been talking about all along. While we don't mean to nag, this study does point out that even world-class competitors have room for improvement with their oral hygiene. How about you? Whether you're a triathlete in training, a weekend warrior or an armchair aficionado, good oral health can have a major effect on your well-being.
If you have additional questions about oral health, please contact us or schedule an appointment for a consultation. For more information, see the Dear Doctor magazine article "Good Oral Health Leads to Better Health Overall."
By Park Dental Center
May 15, 2015
A woman as gorgeous and funny as Sofia Vergara surely planned to be a model and actress from the get-go, right? Wrong! Sofia's first career choice actually was to be… a dentist! That's right, the sexy star of TV's Modern Family actually was only two semesters shy of finishing a dental degree in her native Columbia when she traded dental school for the small screen. Still, dental health remains a top priority for the actress and her son, Manolo.
"I'm obsessed," she recently told People magazine. "My son thinks I'm crazy because I make him do a cleaning every three months. I try to bribe the dentist to make him to do it sooner!"
That's what we call a healthy obsession (teeth-cleaning, not bribery). And while coming in for a professional cleaning every three months may not be necessary for everyone, some people — especially those who are particularly susceptible to gum disease — may benefit from professional cleanings on a three-month schedule. In fact, there is no one-size-fits-all approach to having professional teeth cleanings — but everyone needs this beneficial procedure on a regular basis.
Even if you are meticulous about your daily oral hygiene routine at home, there are plenty of reasons for regular checkups. They include:
Dental exam. Oral health problems such as tooth decay and gum disease are much easier — and less expensive — to treat in the earliest stages. You may not have symptoms of either disease early on, but we can spot the warning signs and take appropriate preventive or restorative measures.
Oral cancer screening. Oral cancer is not just a concern of the middle aged and elderly — young adults can be affected as well (even those who do not smoke). The survival rate for this deadly disease goes up tremendously if it is detected quickly, and an oral cancer screening is part of every routine dental visit.
Professional teeth cleaning. Calcified (hardened) dental plaque (tartar or calculus) can build up near the gum line over time — even if you brush and floss every day. These deposits can irritate your gums and create favorable conditions for tooth decay. You can't remove tartar by flossing or brushing, but we can clear it away — and leave you with a bright, fresh-feeling smile!
So take a tip from Sofia Vergara, and don't skimp on professional cleanings and checkups. If you want to know how often you should come in for routine dental checkups, please contact us or schedule an appointment for a consultation. You can learn more in the Dear Doctor articles "Dental Hygiene Visit" and "Dental Cleanings Using Ultrasonic Scalers."