Posts for: August, 2013
By Park Dental Center
August 21, 2013
Kristin Cavallari's flawless smile has been featured on TV, film and magazine covers. But the 25-year-old actress and reality-show personality didn't always have a perfect set of teeth. In fact, she told Dear Doctor magazine — where readers recently voted to crown her with the "Smile of the Year" award — that her dental treatments began the same way many do: with orthodontics in sixth grade.
"I had the 'spaghetti catcher,' which is what everyone used to call it," she reminisced. But by that, she didn't mean a strainer — she's talking about what dentists call a "palatal expander."
In case you're not familiar with this orthodontic device, a palatal expander takes advantage of the natural growth patterns of a child's upper jaw to create additional space for the top set of teeth. How does it work? Basically, it's similar to braces: By applying gentle pressure, the appliance creates changes in the jaw. Unlike braces, however, it's invisible — it fits between the upper teeth, close to the roof of the mouth.
During the three to six months a child wears the palatal expander, it pushes the left and right halves of the upper jawbone apart, and then maintains and stabilizes the new, wider spacing. Since the palatal bones don't fuse until after puberty, tightening it a little bit each day for the first few weeks provides a quick and painless method of making the upper jaw a bit roomier. And that can be a very good thing. Why?
There are lots of reasons. For one, it can relieve the condition called "crowding," when there is not enough space in the upper jaw to accommodate the proper alignment of the permanent teeth. In the past, teeth often had to be extracted in that situation. It may even allow "impacted" teeth — ones which are blocked from erupting by other teeth — to come in normally.
It can help treat a "crossbite," when the back top teeth come down to bite inside (instead of outside) the lower back teeth. It also generally shortens the total time a child needs for orthodontic treatment. That's good news for any teenager — even if their own day-to-day "reality show" isn't featured on TV!
If you would like more information about palatal expanders, please contact us or schedule an appointment for a consultation. You can also learn more by reading the Dear Doctor magazine article "Palatal Expanders" and "Early Orthodontic Evaluation."
By Park Dental Center
August 06, 2013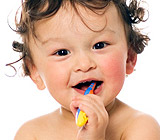 Even though they eventually fall out, primary (baby) teeth play several vital roles in your child's development. Among other things, they serve as important guides for the developing permanent teeth that will replace them. If any are lost prematurely, the remaining baby teeth start to shift, migrating forward, decreasing the space necessary for the permanent teeth to erupt into their proper positions. This could result in a need for future orthodontics that may have been unnecessary. So it's important to keep primary teeth healthy and in place until they are ready to come out naturally.
Signs & Symptoms of Teething
Primary (baby) teeth typically begin emerging between six and nine months, though as early as three or as late as 12 months can occur. Usually, but not necessarily, the two lower front teeth appear first. All 20 primary teeth are generally in by the age of three.
Some typical signs of teething include: irritability, gum swelling, gnawing, drooling (due to increased saliva production), chin (facial) rash (due to excessive drooling), disrupted sleeping patterns, ear rubbing, and decreased appetite. Symptoms generally start about four days before a tooth emerges, are most intense during the week when the tooth breaks through the gum, and subside about three days following the event.
You may notice small, bluish, translucent "eruption cysts" on your baby's gum where a tooth is breaking through; sometimes blood mixes with the fluid in a cyst, at which point it's called an eruption hematoma. Both generally disappear on their own when the tooth erupts and pops them.
Suggestions for Soothing
To help keep your teething baby as comfortable as possible, try the following:
A chilled rubber teething ring, pacifier, or cold wet washcloth
Gentle gum massage using a clean finger
Cold foods like popsicles when your child is old enough (just be careful about feeding him or her too much sugar, which can cause decay even in newly emerging/emerged teeth)
Over-the-counter pain medication such as ibuprofen or acetaminophen in the appropriate dosage
The onset of teething is the perfect time to begin focusing on your child's pediatric dental care. Even though baby teeth eventually fall out, the quality of their care will have a direct and long-lasting impact on the health of the permanent teeth that follow.
If you would like more information about baby teething, please contact us or schedule an appointment for a consultation. You can also learn more about this topic by reading the Dear Doctor magazine article "Teething Troubles."